Ever wonder why all the TVs in the airport showing the flight schedule are burnt out, or look like they have another image on top of them? Here's my latest blog post for DigitalSignageToday that explains why…
Avnet recently held our first webinar on Digital Signage Today, and the event was very successful. I was pleased by both the number and variety of questions asked by participants. However, one issue that continued to pop-up, even after the presentation, was the importance of industrial displays versus consumer televisions in the digital signage space.
As the title of this article states, industrial displays simply make sense and will also save you dollars in the long-run. You're probably thinking, "Okay, nice use of an already overly-used catchphrase, but tell me why!"
Allow me to explain.
Consumer televisions are often used in digital signage applications because their cost is less than that of industrial-grade displays or monitors. However, the initial cost advantage quickly becomes a liability that drives up total cost of ownership (TCO).
Consumer televisions are designed to be "on" for only a few hours per day, showing video content that is changing constantly. Most digital signage applications show content that is recurring (like an advertisement) or is fairly static (think digital menu-board in a quick-serve restaurant or flight information display at an airport). Not only is the content more static than on a television; it is on for many more hours per day than a television.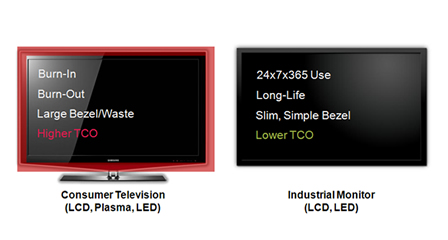 When most consumer grade televisions are used in digital signage applications, their warranties become voided, leaving the buyer on their own for replacement or repair. In addition, consumer televisions burn out much more quickly because, unlike industrial displays, they are designed to be on for just a few hours a day.
Content that is displayed constantly can also result in the image being "burnt-in" to the display. I think we've all see plenty of examples of digital signage displays where it appears as though the image is ghosted into the television and continues to appear even when the content behind the glass changes.